Cleaning Tips
If you're simply looking for extra cleaning tips, we're here to help you. We've provided the Naperville area with our excellent cleaning services for many, many years. While we'd certainly love to clean your home for you, we're more than willing to offer cleaning tips and advice to our loyal customers.
The following are some excellent cleaning tips for anyone at home to try out!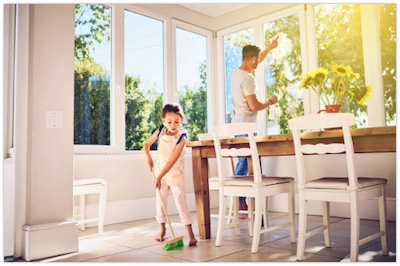 If you'd like to tidy your house up on a consistent basis, but are struggling to set aside a proper time, you should make a schedule. Setup a routine time schedule to do nothing but tidy your house and straighten up each room. It'll also help you teach these habits to your children or other family members. Who knows, maybe they'll start straightening up the house instead of you!
How to Remove Blood Stains
If you have a house with kids, it's likely that at some point someone will be bleeding. You can remove blood stains by using corn starch and cold water. Simply rinse cold water over the stain and then rub in the wet cornstarch. After, try and get the area in the sunlight for quick drying.
An efficient way to remove gum from unfortunate surfaces is to use cold. Simply hold a frozen ice cube over the gum. Once the gum becomes hardened, use a dull knife (such as a butter knife) to remove it completely.
One important tip for cleaning is to ensure your safety. When you're cleaning anything, you should always wear thick rubber gloves to help protect your skin. Many cleaning chemicals can hurt your skin and cause irritation and other minor injuries (another reason why we only use green cleaning products in our clients homes).
Use Non-Toxic and Green Cleaning Products
We highly encourage anyone cleaning their home to only use non-toxic and recommended "green" products. These are much safer than regular cleaners and are proven to lessen the affects of asthma attacks in children and adults when using them. You can also utilize natural cleaning solutions such as, baking soda, water, and vinegar. Surprisingly, these 3 natural cleaners can do wonders in your home, especially the bathroom and kitchen.